Happy New Year!
We hope that everyone has stayed healthy, and been able to take a moment to rest, recharge and reconnect with friends and family during the holidays this year. With the holidays coming to a close it's time to talk dirt. Once again, this year the club has an opportunity to provide bonsai soil to our members at bulk prices.
This year We will be offering Triple Line Ibaraki Akadama, in three sizes, as well as Japanese Pumice (Hyuga), and Lava (Kiryuzuna) are all sourced by Adam Jones of Treehouse Bonsai. This soil is kiln-dried, carefully graded, and offers consistent particle size and very low amounts of waste. Soil prices are $40.00 per bag, which includes all shipping costs. To reduce the price per bag, we will be shipping in bulk to a local Doraville warehouse.
Pick up location is:3482 Oakcliff Road, Unit CDoraville GA 30340
Pick-up will be available on three dates:
January 7th from 2:00 pm – 5:00 pm
January 20th from 3:00 – 6:00 pm
January 21st from 2:00 – 5:00 pm.
It is essential that you pick up on one of the three dates listed above
A quick word about soil particle sizing. Our offering is split into three size particles:
Small 1 is 1/16" – 1/8" particles. Think Shohin size.
Small 2 is 1/8" – ¼" particles. This is the most useful "medium" size particle for a broad variety of uses. We've ordered more stock of this size than any other and if you are unsure of what size to purchase, this is what we recommend.
Medium is ¼" – 3/8" particles. This is for larger trees and drainage layers. This is the big stuff, for the big trees and containers.
All Akadama, Hyuga, and Kiryiuzuna are graded to the same size particles. If you are ordering Small 2 Akadama then order Small 2 Hyuga or Kiryiuzuna and the particle sizes will match.
Thanks to the extraordinary efforts of our volunteers, we've built a website for you to check out product details and place your orders. Just go to https://dirtmerchantsrus.com/ and place your order there. This year we are even set up to accept your credit or debit card, instead of requiring PayPal. This should make ordering a simpler, more consumer-friendly experience.
February Club Meeting
We're looking forward to seeing everyone in 2023, at soil pick up or our first meeting of the year, which has been moved to Saturday, February 4th at Waldo Street Pottery. Atlanta's own Eli Akins will host the club for the morning at his studio and show us the basics (and the not-so-basics) of bonsai pottery. We'll have our club meeting on the morning of the 4th and then a pottery workshop in the afternoon.Looking forward to seeing you all in 2023!
The ABS Board
Upcoming Events:
Waldo Street Pottery February 4th
On February 4th at 10:00am please join the club for a demonstration of handmade bonsai pottery with Eli Akins, proprietor of Atlanta's own Waldo Street Pottery. We will be on Waldo Street at Eli's Studio: 505 Waldo Street SE, Atlanta GA 30312. When parking please park along Waldo Street and don't block the Alley.
Club meeting from 10:00 – 12:00.
The club will provide some lunch at noontime for anyone interested.
Workshop for six participants in the afternoon from 1:00 – 4:30pm. Cost per person is $75.00. Participants will get to go "hands on" and make their own bonsai or accent pottery for pick up at a club meeting in the spring.
Kathy Shaner Returns in February 2023
On Saturday February 18th, at 10:00am at the Main House at the Callanwolde Fine Arts Center, longtime bonsai professional Kathy Shaner will provide a demonstration and lecture on one of the most important topics in bonsai: how to properly repot your tree.
Beginner's question and answer from 9:00 – 10:00am
Club meeitng from 10:00 – 12:00pm
Lunch will be provided at noontime
Bring your own tree for eight participants in the afternoon from 1:00 – 4:30pm. Cost per person is $75.00 If you want to repot during the workshop, the club will provide wire, but please bring your own pot and soil supplies. Consider bringing a couple of your pots in order to obtain feedback on which pot to choose. The workshop will be held in the conservatory, as it is a better location for messier activities.
Annual Exhibition at Atlanta Botanical Gardens in March
Join the club for our biggest event of the year, our annual bonsai exhibition at the Atlanta Botanical Gardens on March 18th and 19th, with set up beginning on the afternoon of the 17th. We will be located in Day Hall once again this year. Tyler Sherrod of Dogwood Studios, will be our guest artist. He will coach us through the intricacies of setting a bonsai exhibit, provide an educational critique, perform a demonstration of bonsai techniques, and host a "bring your own tree workshop".
A full schedule of events for the show will be posted here soon, please be on the lookout!
Admission to the Gardens is free for club members is free during the weekend of the show only, although you will have to pay for your parking.
Shannon Slayer on Shohin in April
On April 22nd, at 10:00am we welcome Shannon Salyer to Atlanta for a lecture on the proper development and construction of shohin bonsai, the rather different world of truly miniature trees. Shohin literally means "a small thing" and trees of this size are generally 8 inches tall or under. We will be meeting at the Retreat at the Callanwolde Fine Arts Center once more. Shannon most recently won the best shohin award at the Winter Silhouette show in Kannapolis, NC in December of 2022.
Beginner's Question and Answer Session from 9:00 – 10:00am
Club Meeting with Shannon from 10:00 – 12:00pm
Lunch around noontime
Workshop for up to eight persons from 1:00 – 4:30pm at a cost of $75.00 per person. Bring your own tree and get Shannon's advice on what to do next.
Kusamono "into the woods" with Young Choe and John Godfrey in May
Join us on Saturday May 20th for a very, very special day in the woods at the home of John Godfrey. Young Choe will lead us into the woods, where for our morning meeting, she will collect wild plants that live together in the forest ecosystem and create a kusamono in the wild. This will be a very special morning! Wear your outdoor clothing and be prepared for a 1/3 mile walk up and downhill into the woods. As an added bonus, you will get a chance to shop John's super collection of bonsai material, which he personally collects and nurtures.
Club Meeting 9:00am – 12:00pm
"Brown Bag It" Today is the day to bring your own lunch!
Afternoon workshop is for eight persons, at a cost of $100 per person. Plants will be collected on the spot in the wild, Young's preferred Kusamono mix will be provided and she will help you build your creations in the wild. Please bring your own pottery. We will have a vehicle on site to help everyone "pack out" their creations.
This event is weather permitting, and may be pushed to Sunday if the Saturday that weekend is forecast for heavy rains.
Pine Tree Seasonal work with Tyler Sherrod in June
Join regular club guest artist Tyler Sherrod of Dogwood Studios for a course on seasonal work with pine trees, including decandling and needle pulling for multi-flush pine trees. This work is essential, especially with Japanese Black Pines, if you want to achieve the reduction in needle size and an increase in ramification. We will meet at 10:00am on June 24th at the Retreat at the Callanwolde Fine Arts Center for our meeting and workshop.
9:00am – 10:00am Beginner's Q&A
10:00 – 12:00pm Lecture and Club Meeting
12:00 – 1:00pm Lunch provided around noontime
1:00 – 4:30pm Bring your own tree workshop for eight persons at a cost of $75.00 per person. The club will provide aluminum wire and Tyler will be on hand to help you move your tree forward.
Tropicals in July with The Bonsai Supply
Jerome Kellerhaus with lead our club in a presentation on how to maintain and style your tropical bonsai on the 22nd of July, the perfect moment for working on your tropical trees. We will meet at the Retreat at Callanwolde at 9:00am for our beginner's session and the regular club meeting at 10:00am that day. Bring your own tree workshop in the afternoon should you need a little extra help.
9:00am – 10:00am Beginner's Q&A
10:00am – 12:00pm Tropicals Presentation and Club Meeting
12:00 – 1:00pm Lunch provided around noontime
1:00 – 4:30pm Bring your own tree workshop for up to eight persons at a cost of $75.00 per person.
Annual Auction in August!
Please join the club for our biggest fund raiser of the year in August, at Ahler's Auction House on the West Side. The auction will be held on August the 19th, and we will post a full auction schedule and guidelines later on in 2023.
September JapanFest Exhibition at Gas South Convention Center
While the details are still all being finalized, the club is planning on a two day exhibition of fine bonsai at the Japanfest 2023, to be held at the Gas South Convention Center… More details to come as we work with the festival organizers.
October Club Meeting
October Club Meeting to be held at the Retreat at Callanwolde, on October 21st. 9:00am for the beginner's Q&A, 10:00am for the club meeting and 12:00 for lunch! Our plans haven't firmed up just yet for October, so watch this space for details!
Noveber Decidious Seasonal Work with Sergio Cuan
Join respected Bonsai Artist Sergio Cuan, to focus on the essential work of moving your decidious treess forward in the fall. We will meet at the Retreat at Callanwolde at 9:00am for our Beginner's Q&A, 10:00am for our club meeting and presentation, and then have a workshop in the afternoon.
9:00 – 10:00 Beginner's Q&A
10:00 – 12:00pm Presentation on Fall Decidious Work
12:00 – 1:00 Lunch will be provided around noontime
1:00 – 4:30pm Bring your own tree workshop for up to eight persons at a cost of $75.00 per person.
December 2023 Holiday Party
Details to be confirmed, but let's all plan on having a holiday lunch together, elections should we need to have them, and our annual club meeting and send off to the year! December 16th, from 11:00 – 3:00pm.
Past Events in 2021
January 16th, 2021
Sami Amdouni – Potter – Virtual 4-6pm
February 20th, 2021
Tyler Sherrod – Grafting and Potting – Virtual 10-noon
March 20th, 2021
Jonas Dupuich – Strategies for Long-term Development of Quality Bonsai – Virtual 1-3pm
April 17th, 2021
Eli Akins of Waldo Street Pottery & Russell Baggett Talk Yamadori – Virtual – 10am-Noon
May 15th, 2021
Rodney Clemons – Air Layering Demo – Virtual 10-noon
June 19th, 2021
Adair – Workshop on Pine Decandling
10am to Noon – Workshop On-Site – SIGN UP IS REQUIRED AND LIMITED!
1:00-3:00pm – Adair Garden Tour – On-Site & Virtual – free to all members
July 17th, 2021
Kusamono with Young Choe at Callenwolde Fine Arts Center Retreat House
980 Briarcliff Rd., NE, Atlanta, GA 30306
10:00am to Noon – Demonstration
1:00-4:30pm – Workshop – SIGN UP REQUIRED AND LIMITED
August 21st, 2021
Club Auction & Fundraiser
Ahlers & Ogletree Auction Gallery
10:00am – 12 noon Check In for Sellers
1:00-4:00pm for Auction
Atlanta Bonsai Society Annual Exhibtion at the Atlanta Botanic Gardens located in Day Hall. Admission to the gardens is free with your ABS membership. This is a great opporuntiy to display a tree, view bonsai from collections around our area and enjoy the Botanic Gardens.
Thurday 10/7/2021 Set up and tree drop off from 4:30pm until 7:00pm. Please go to the "back gate" of the gardens off Piedmont Road, if you need to drive in with a tree.
Friday 10/8/2021 from 9:00am – 7:00pm
Judging 9:15 – 10:00am
Educational Walk Through and Critique 10:00am – 12:00pm
Bonsai Demonstration 2:00pm – 4:30pm
Informal Banquet 7:30pm at Dim Sum Heaven on Buford Highway
Saturday 10/9/2021 from 9:00 – 6:00pm
EducationalWalk Through and Critique 10:00am – 12:00pm
September 18th, 2021
Field trip to John Godfrey's to talk about collecting local species. Address will be provided via email to members.
October 8th-9th – Club Exhibition
On October 8th -9th the club will host our annual Bonsai Exhibition in the Day Hall of the Atlanta Botanic Gardens. Set up will be the afternoon and evening of the 7th. Our guest artist for this year's exhibition will be Tyler Sherrod of Dogwood Studios.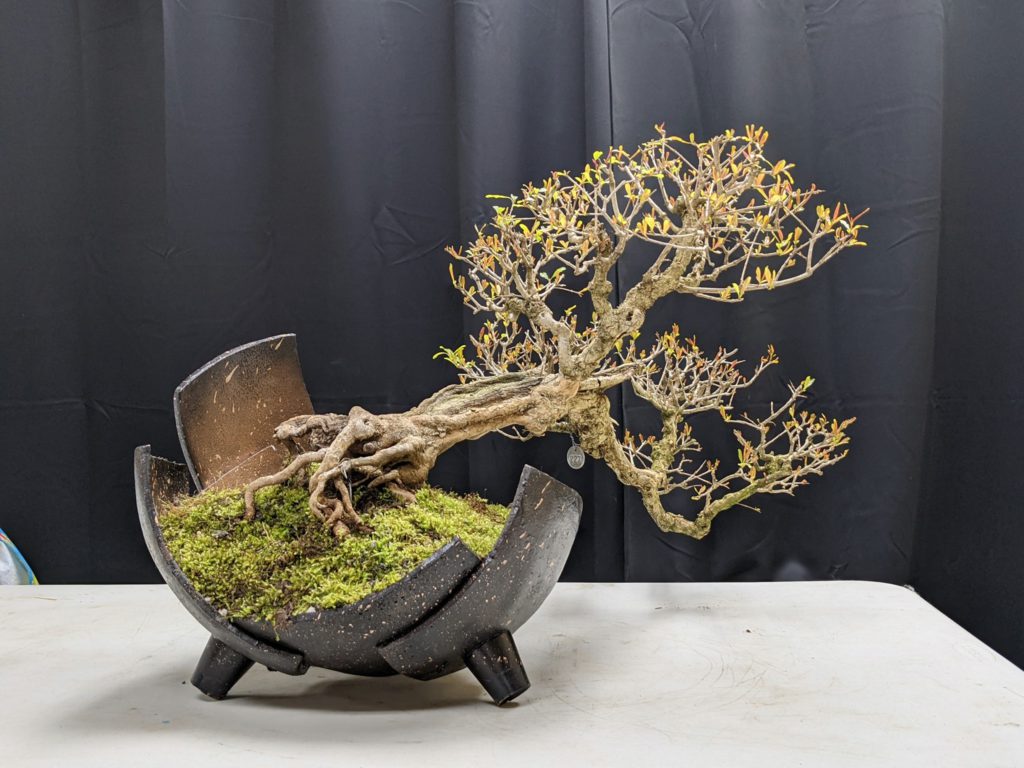 Annual Club Events
The club has planned calendar of events each year. Each Spring the club will sponsor an annual bonasi exhibition at the Atlanta Botanical Gardens. In late Summer the club hosts an auction fundraiser each year. This is the club's primary fundraiser. All proceeds go directly back into the club to support our monthly activities. For the remaining months of the year the club focuses each month on a seasonally appropriate topic, usually presented by a professioanl bonsai artist. Past Topics have included: Repotting techniques, how to judge a bonsai exhibition, how to care for tropical bonsai, accent plants and moss balls, seasonal work for pines, seasonal work for junipers and fall seasonal work for decidious trees.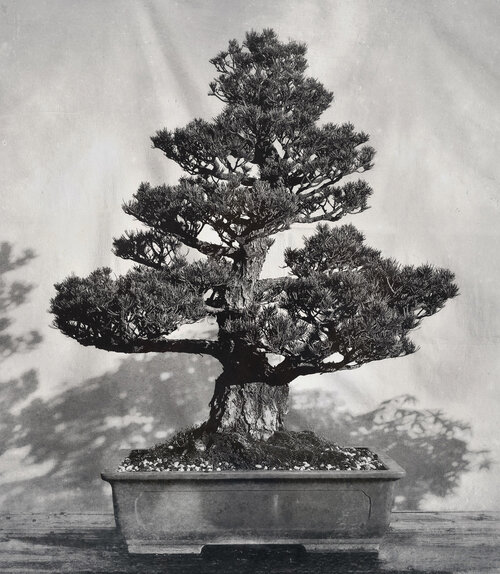 Bonsai Workshops
We offer novice workshops led by a local bonsai professional and advanced workshops led by various guest artists. Since bonsai have needs based on the calendar our workshops are seasonal in nature.
Depending on artist demand, we may have more than one workshop session per weekend, so check the events page for times as the monthly meeting approaches. Please remain flexible with whether you can take morning or afternoon workshop. The cost of each workshop session is currently $75 for at least 3 hours, unless we are including tree or other materials, which may be extra. The club will provide wire to use at workshops and meetings; everything else you may need should be brought by workshop participant, including tree and tools.
Recent Guest Artists
Young Choe
Rodney Clemons
Adam Jones
Kenji Miyata
Kathy Shaner
Tyler Sherrod
Jerome Kellerhals
Sergio Cuan
Eli Akins
Membership
Membership is required to access members only content. Read about our
Member Benefits
.
ATLBS Online