JapanFest Exhibition and Bonsai Experience at Gas South Convention Center
THANK YOU, THANK YOU, THANK YOU, THANK YOU
To our many volunteers over the weekend we want to express a sincere thank you. You all worked hard to create a special exhibtion and bonsai experience for the attendees of Japanfest.
Together, we were able to share a simple, but high quality bonsai exhbit with the thousands who attended the festival. Better yet, 100 people got their first "hands on" lesson and took a bonsai home with them.
One of the things we asipire to do is to share our love for the art of bonsai with the people of Georgia and around the southest. This weekend we certianly did that. Check the Facebook group for photos of the proceedings!
Thank you once again to all those who made it all happen.
Check out the Japanfest website for more details here: https://www.japanfest.org/
October 28 Club Meeting with Rodney Clemons
October Club Meeting to be held at the Retreat at Callanwolde, on October 28st. 9:00am for the beginner's Q&A, 10:00am for the club meeting and 12:00 for lunch. "bring your own tree" workshop for a small group in the afternoon for a fee. Featuring the one, the only Rodney Clemons!
Our theme for the morning meeting is a favorite of Rodney's "Stump the Chump". Bring in your most challenging tree, be it unhealthy, unstylable or simply mystifying and let Rodeny figure out what to do next while he's live and on stage.
9:00am Question and Answer Session
10:00 Club Meeting "Stump the Chump"
12:00 Lunch
1:00 Workshop
4:30 Clean up and Break down!
You can register for the workshop here: https://www.eventbrite.com/e/bring-your-own-tree-bonsai-workshop-with-rodney-clemons-tickets-689581044467?aff=oddtdtcreator
Beginner's Event on November 8th
The Club is thrilled to continue our "bonsai beginners" series in 2023. We will continue last year's well received seminars, the only change being that we have added some additional dates in 2023. The seminars will be held on the second Wednesday night most months, from 7:00pm – 9:00pm at the Callanwolde Conservatory.
The seminar will be taught by Rodney Clemons, of Allgood Bonsai. Rodney is one of Atlanta's longest standing bonsai professionals, a nationally recognized speaker and lecturer and just a downright funny guy. Check out Rodney's website here: https://www.allgoodbonsai.com/
There are two parts of each one of our beginner's sessions: A discussion of the seasonal maintenance important to the time of year and a one by one, tree driven question an answer session. Each participant is encouraged to bring a tree or two from their collection and Rodney will coach the owner on the best course of action for that particular plant. This tends to result in a great back and forth as Rodney works on each tree with the owner and the group's input.
Each Seminar will have a ten-person limit for those who wish to bring a tree and have Rodney, critique, comment and work that plant. If the seminar is sold out, you are welcome to attend without a ticket, but we cannot guarantee Rodney will be able to address your plant material during the seminar.
Register Here: https://www.eventbrite.com/e/bonsai-beginners-seminar-series-w-rodney-clemons-2023-tickets-573034520677
November 18 Decidious Seasonal Work with Sergio Cuan
Join respected Bonsai Artist Sergio Cuan, to focus on the essential work of moving your decidious treess forward in the fall. We will meet at the Retreat at Callanwolde at 9:00am for our Beginner's Q&A, 10:00am for our club meeting and presentation, and then have a workshop in the afternoon.
9:00 – 10:00 Beginner's Q&A
10:00 – 12:00pm Presentation on Fall Decidious Work
12:00 – 1:00 Lunch will be provided around noontime
1:00 – 4:30pm Bring your own tree workshop for up to sevenpersons at a cost of $75.00 per person.
You can sign up for the workshop here: https://www.eventbrite.com/e/bring-your-own-tree-workshop-with-sergio-cuan-tickets-689626801327?aff=oddtdtcreator
December 16, 2023 Holiday Party
Join your fellow club members for lunch and a little holiday cheer! This year, we will be at:
Ormewood Church Fellowship Hall
1071 Delaware Ave SE, Atlanta, GA 30316, USA
Since lunch will be provided, please bring your favorite appetizer or dessert to help make our table more festive.
We'll have the Club's Annual Meeting, publish the 2024 schedule and conduct elections as needed.
If you feel so moved, please bring a tree from your collection to share with our fellow club members. Holiday decorations are optional!
Past Events in 2021
January 16th, 2021
Sami Amdouni – Potter – Virtual 4-6pm
February 20th, 2021
Tyler Sherrod – Grafting and Potting – Virtual 10-noon
March 20th, 2021
Jonas Dupuich – Strategies for Long-term Development of Quality Bonsai – Virtual 1-3pm
April 17th, 2021
Eli Akins of Waldo Street Pottery & Russell Baggett Talk Yamadori – Virtual – 10am-Noon
May 15th, 2021
Rodney Clemons – Air Layering Demo – Virtual 10-noon
June 19th, 2021
Adair – Workshop on Pine Decandling
10am to Noon – Workshop On-Site – SIGN UP IS REQUIRED AND LIMITED!
1:00-3:00pm – Adair Garden Tour – On-Site & Virtual – free to all members
July 17th, 2021
Kusamono with Young Choe at Callenwolde Fine Arts Center Retreat House
980 Briarcliff Rd., NE, Atlanta, GA 30306
10:00am to Noon – Demonstration
1:00-4:30pm – Workshop – SIGN UP REQUIRED AND LIMITED
August 21st, 2021
Club Auction & Fundraiser
Ahlers & Ogletree Auction Gallery
10:00am – 12 noon Check In for Sellers
1:00-4:00pm for Auction
Atlanta Bonsai Society Annual Exhibtion at the Atlanta Botanic Gardens located in Day Hall. Admission to the gardens is free with your ABS membership. This is a great opporuntiy to display a tree, view bonsai from collections around our area and enjoy the Botanic Gardens.
Thurday 10/7/2021 Set up and tree drop off from 4:30pm until 7:00pm. Please go to the "back gate" of the gardens off Piedmont Road, if you need to drive in with a tree.
Friday 10/8/2021 from 9:00am – 7:00pm
Judging 9:15 – 10:00am
Educational Walk Through and Critique 10:00am – 12:00pm
Bonsai Demonstration 2:00pm – 4:30pm
Informal Banquet 7:30pm at Dim Sum Heaven on Buford Highway
Saturday 10/9/2021 from 9:00 – 6:00pm
EducationalWalk Through and Critique 10:00am – 12:00pm
September 18th, 2021
Field trip to John Godfrey's to talk about collecting local species. Address will be provided via email to members.
October 8th-9th – Club Exhibition
On October 8th -9th the club will host our annual Bonsai Exhibition in the Day Hall of the Atlanta Botanic Gardens. Set up will be the afternoon and evening of the 7th. Our guest artist for this year's exhibition will be Tyler Sherrod of Dogwood Studios.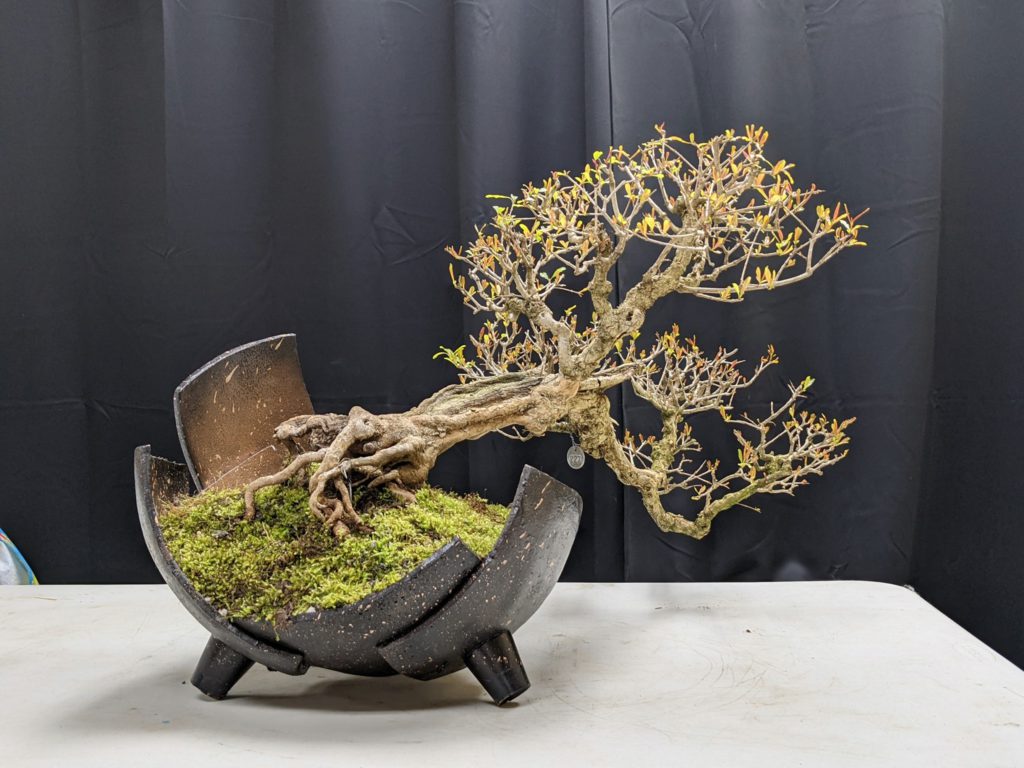 Annual Club Events
The club has planned calendar of events each year. Each Spring the club will sponsor an annual bonasi exhibition at the Atlanta Botanical Gardens. In late Summer the club hosts an auction fundraiser each year. This is the club's primary fundraiser. All proceeds go directly back into the club to support our monthly activities. For the remaining months of the year the club focuses each month on a seasonally appropriate topic, usually presented by a professioanl bonsai artist. Past Topics have included: Repotting techniques, how to judge a bonsai exhibition, how to care for tropical bonsai, accent plants and moss balls, seasonal work for pines, seasonal work for junipers and fall seasonal work for decidious trees.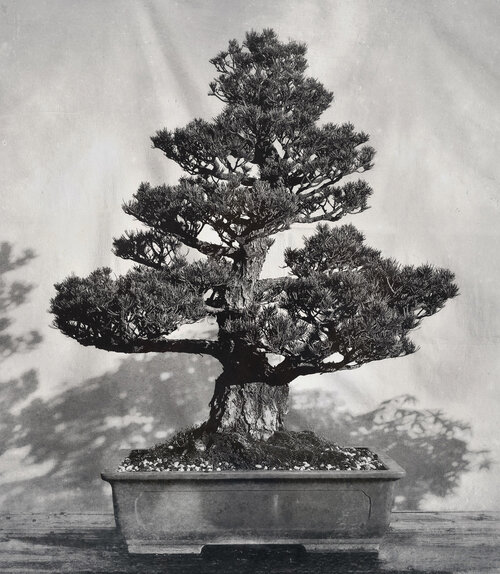 Bonsai Workshops
We offer novice workshops led by a local bonsai professional and advanced workshops led by various guest artists. Since bonsai have needs based on the calendar our workshops are seasonal in nature.
Depending on artist demand, we may have more than one workshop session per weekend, so check the events page for times as the monthly meeting approaches. Please remain flexible with whether you can take morning or afternoon workshop. The cost of each workshop session is currently $75 for at least 3 hours, unless we are including tree or other materials, which may be extra. The club will provide wire to use at workshops and meetings; everything else you may need should be brought by workshop participant, including tree and tools.
Recent Guest Artists
Young Choe
Rodney Clemons
Adam Jones
Kenji Miyata
Kathy Shaner
Tyler Sherrod
Jerome Kellerhals
Sergio Cuan
Eli Akins
Membership
Membership is required to access members only content. Read about our
Member Benefits
.
ATLBS Online